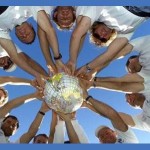 En seguimiento al debate iniciado en la reunión en línea realizado en 05 de julio con la Red BVS, los países ya están trabajando en sus análisis de escenarios. Esta semana ocurre la reunión de la BVS en Uruguay, El Salvador y República Dominicana. En la próxima semana es Paraguay quien consolida su encuentro nacional.
El cronograma de las reuniones realizadas por la Red ya se encuentra disponible en: http://bvsencuentros2011.bireme.org/?page_id=55 , así como las orientaciones para construcción de los análisis nacionales que contribuirán para la definición de las prioridades estratégicas para la Red BVS a mediano plazo. El día 30 de agosto es el plazo para que cada país tenga en línea, en la instancia de Wiki correspondiente, el análisis realizado.
***
In compliance with the debate initiated with the July 5 on line meeting of the VHL Network, the countries are already working in their scenarios' analysis. This week the Uruguay VHL and El Salvador VHL meetings will take place as well as the Dominican Republic's.  Next week Paraguay will be consolidating its national VHL meeting.
The meetings timetable held by the Network is already available at: http://bvsencuentros2011.bireme.org/?page_id=55, as well as the guidelines for the construction of the national analysis that will contribute to the definition of the strategic medium-term priorities for the VHL Network. We recall that August 30 is the deadline for each country to publish online in its Wiki corresponding entity, the performed analysis.